Controls


Finding a source for the game controls was no problem. Site after site pointed me to www.happcontrols.com. Happ has just about every kind of game controller you can think of, and the prices typically aren't that bad. I knew for my cabinet I'd be needing some pushbuttons and joysticks, but that's about all I knew. I would have to log some more research before I could make a decision about what particular kind of controls I needed.



The Controls - Joysticks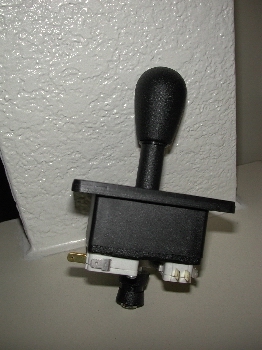 When considering joysticks for the cabinet, I at first wanted to stay as true to the original Pac-Man controls as possible. That meant for my cabinet, I had a decision to make. Pac-Man and the related games (Ms. Pac-Man, Galaga, etc.) were designed for use with 4-way joysticks only. 4-way joysticks only register motion on the four cardinals (north, east, south, west). However, most other games are designed for use with an 8-way joystick, so the player has a wider range of motions (getting the diagonals in addition to the cardinals). I primarily wanted to play the "classic" arcade games - and the cabinet is designed to be a Pac-Man replica. But, I also wanted to be able to play some newer/other games as well. Since 4-way joysticks wont work for 8-way games, and 8-way sticks sometimes give funky responses in 4-way only games, I had a tough choice to make. (If you're facing the same choice, be sure and read the last paragraph in this section for some updated information that may help you).

In the end, I decided to go crazy and give each player both a 4-way and 8-way stick, that way, they could use the dedicated 4-way for the real old-school games, and the 8-way sticks for most others. So, I needed two 4-way sticks and two 8-way sticks. Happ had what seemed like the perfect solution. Their "Super Joystick" can be configured as either a 4-way or 8-way joystick (see the costs page for details). Sounded great to me, and they happened to be on sale at the time I ordered them.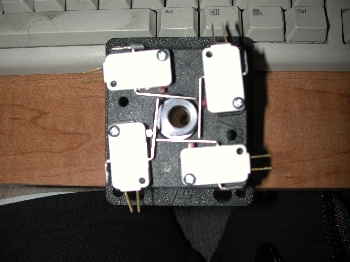 Happ advertises that the "Super Joystick" can "change actuation to 4-way or 8-way simply by flipping actuator over." Great! Sounded awesome to me, I just needed to find this "actuator" thing and flip it, how hard could that be? First off, when the sticks arrived, they looked awesome! I couldn't wait to put one together and try it out. By looking closely at the µswitches on the bottom of the joystick, it was easy to see how maneuvering the stick above would hit the different switches. You could wiggle the stick and watch the four cardinal direction switches trigger, hitting a combo of two for diagonal movements. However, I didn't see any way to make the thing operate as solely a 4-way stick. It seemed to me that, the way the switches were, there would always be a chance that you'd hit two at once (and get a diagonal). I figured I had to flip this magic "actuator," and everything would be OK. Well, after getting frustrated and even taking apart one of the switches (they're cool inside!), I finally figured out that the actuator is just the little hourglass-shaped piece that goes on the stick on the bottom. The hourglass shaped piece controls the 4-way or 8-way option, put the bigger end at top for 8 way, smaller end for 4 way.

Since doing my machine, and choosing both 4- and 8-way sticks for full game compatibility, I've discovered a new type of joystick that would've made things a lot easier. Ultimarc now sells a joystick called the T-Stik Plus, which is real-time 4-way or 8-way configurable. This means, you can switch from 4-way to 8-way mode without going under the control panel and flipping a switch or moving a restrictor plate. All you do is pull up on the stick and turn it to lock it in 4-way or 8-way mode. This is far superior to installing two sticks, or having to access the panel underside to achieve the switch. I would recommend the T-Stik Plus for the most in compatibility. In fact, I'm using them on my 3rd-side horizontal panel cabinet "upgrade" project, which you can check out here (link to be added soon).



The Controls - Pushbuttons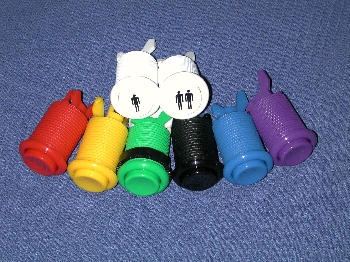 The pushbuttons also come from Happ (check the costs page for an itemized list of what I got). For buttons, there's not much to talk about. However, there are a few things worth mentioning. First off, I would recommend getting the buttons with the horizontal µswitch units. I arrived at this decision after looking into several reviews on different sites. Basically, the horizontal µswitch buttons last longer and "feel" better than the alternative. Second, think about what you need before you order. When I placed my order, I added up all the buttons I figured I'd need, and threw in a few extra for good measure (they're only $1.70 or so).

When thinking of the button-total, consider how many buttons you'd like each player to have, and add two more for 1-player and 2-player buttons. When I ordered my buttons, I was also planning for "alternate" buttons in addition to the standards mentioned above. I wanted some "hidden" buttons for things like "coin," and "escape." Only after I ordered the buttons did I realize that the I-PAC (see the Controls-to-PC Interfacing section below for details) offers a much more elegant solution to the "hidden" button problem. It's built in "shift" functions give alternate functionality to special button combos, for example - Start1 plus certain other buttons sends commands like "coin," "escape" to MAME via the keyboard's PS/2 port. For more about the I-PAC, read on!



The Controls - Controls-to-PC Interfacing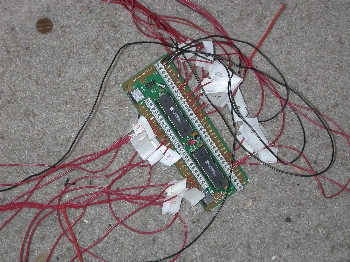 If you're like me, you probably didn't even think about the problem of getting the arcade controls mentioned above to register within MAME on the PC. But let's stop and think about it for a second, MAME works by interpreting keyboard input and turning that into game commands. There are keys assigned to movement, buttons, and even things like "coin" and game config menus and test modes. In order to get our new arcade controls to work properly within MAME, we need to figure out how to translate the button presses and joystick movements into the correct corresponding keypresses for MAME. In the olden days, people did this via the "keyboard hack" method. Meaning they would actually hack into the keyboard's internal circuitry, and make the arcade controls simulate sending a keypress to the keyboard controller by activating the circuit for that key. If it sounds complicated, it is! If you don't know anything about how keyboards work, the circuitry inside is arranged in a matrix (kinda like a huge crosshatching). Hacking into this presents several problems, not the least of which is "ghosting," when you lose the ability to map certain keys, due to the nature of the circuits. All of this makes the old-school keyboard-hack solution less than optimal.

Luckily for us, there is an ultimate solution available for the controls-to-PC problem. A great guy named Andy Warne has come up with an invaluable little tool for using arcade controls with MAME. His tools can be found for sale on the www.ultimarc.com site. Ultimarc sells several different tools for using arcade controls with PC-based emulators, all are equally excellent for the application they are designed for. But the one we want for this project is the I-PAC. The I-PAC is designed to seamlessly interface arcade controls with your PC via the keyboard's PS/2 or USB port. I don't want to go into all the product details here, but let's just say that this thing is packed with goodies that make it a breeze to setup and use with MAME. In fact, it comes pre-configured to run with MAME right out of the box (although I understand it can run with many other emulators as well). It comes pre-programmed for the standard MAME inputs, and also adds some excellent "shift" functions (see the pushbuttons section above for more details). Basically, you plug this thing in and off you go. It's simple, configurable and powerful, no homebrew cabinet should be without one of ultimarc's products.

Since I wanted 2 joysticks per player, and several buttons each as well - I hadd to go with the I-PAC4, which has enough inputs for my purposes (if you're only designing for a 2 player system with 2 sticks and buttons, you may be able to go with the I-PAC2 instead). I chose the PS/2 interface, mainly since it's cheaper - and the pure DOS "legacy USB" support is sometimes dodgy. I know, I'm using Win98 running DOS - but I'd still rather go with PS/2 (and... it's cheaper!).